Guatemala to Mexico
Booking Dates
09/30/2022 through 12/27/2023
Travel Dates
09/30/2022 through 12/30/2023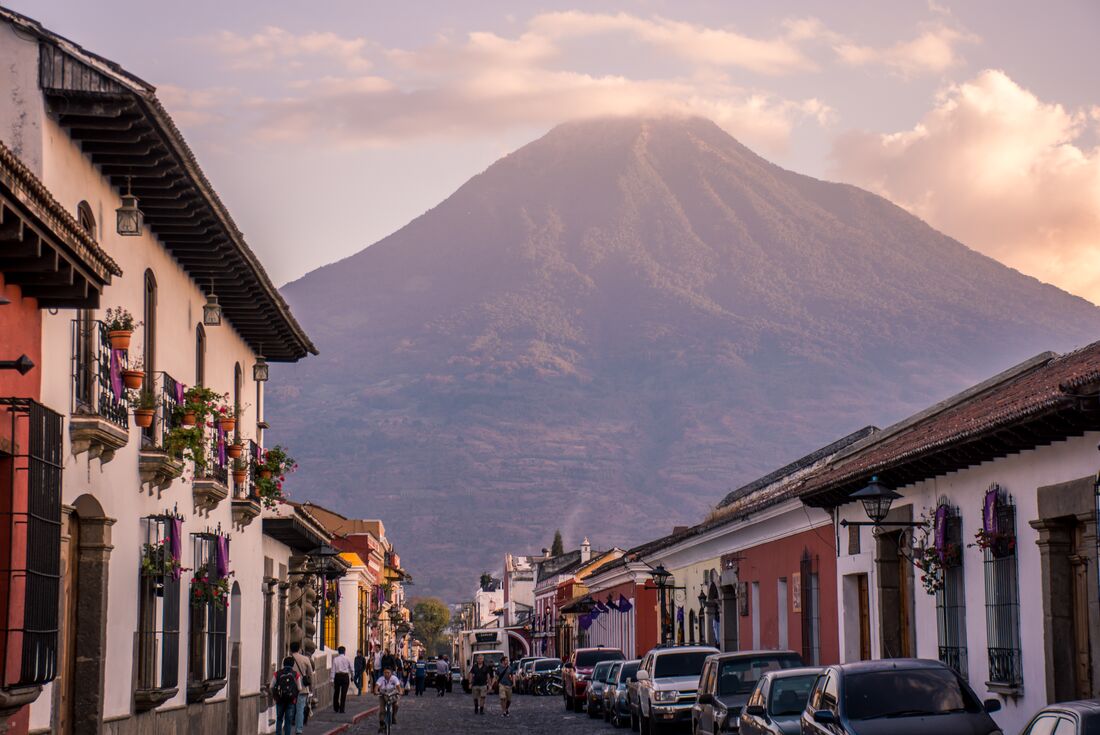 Guatemala to Mexico

Travel the cobblestone streets of Antigua, through blissed-out Belize and along the Yucatan Peninsula to the beachside delight of Playa del Carmen on this 12-day adventure from the jungles of Guatemala to the beaches of Mexico. Crane your neck to gaze up stone temples with steps that lead into a jungle canopy in Tikal, stay in riverside Bacalar and sink your feet into white sands and clear waters in Tulum. From volcano-studded Antigua to the chilled-out charm of Mexico's coast – this tour delivers a slice of action, a dose of history and culture, and some well-deserved relaxation.
IMPORTANT: At the moment, Belize requires a minimum 3-night stay in the Gold Standard Certified accommodation for any foreign visitors to the country.
As we only stay in Belize for 2 nights in our original itinerary, we'll need to make a change to the trip to meet this requirement. Therefore, instead of crossing the border into Mexico and staying in Bacalar on Day 8, you'll spend a night in a lovely riverside cabin in Orange Walk District in Belize and cross border into Mexico on Day 9 and continue your journey directly to Tulum. We'll automatically revert to our original itinerary once the 3-night minimum stay requirement in Belize is dropped.


Activities
Leader-led Informal Spanish Lesson
Antigua – Leader-led orientation walk
Livingston – River boat trip to Garifuna town
Flores – Leader-led orientation walk
Santa Ana Vieja – Cooperativa Nuevo Horizonte visit
Tikal National Park – Archaeological site (Entrance fee, Guide & Transport)
Tortilla Making Demonstration
Tulum – Leader-led orientation walk
Playa del Carmen – Leader-led Orientation Walk
Highlights
Learn some Spanish during an informal lesson in old-world Antigua, then put it to good use during the rest of your Central American adventure.
Wonder at steep, granite steps that reach into the sky while exploring the temples and monuments of Tikal: the seat of Maya power that mysteriously collapsed in AD950.
Explore Livingston: a unique riverside town where the local culture is heavily influenced by the Afro-Caribbean Garifuna population.
Walk along cobblestone streets and shop for local handicrafts in the tiny inland island town of Flores and learn the traditional methods of making tortillas in a small-group workshop.
Recharge and rejuvenate on the white sands of the Yucatan Peninsula, relaxing in stunning Bacalar and laidback Tulum.
| Day | Description | View All |
| --- | --- | --- |
| Day 1 | Antigua | Details |
| Day 2 | Antigua | Details |
| Day 3 | Rio Dulce | Details |
| Day 4 | Rio Dulce | Details |
| Day 5 | Flores | Details |
| Day 6 | Tikal / San Ignacio | Details |
| Day 7 | San Ignacio | Details |
| Day 8 | Bacalar | Details |
| Day 9 | Tulum | Details |
| Day 10 | Tulum | Details |
| Day 11 | Playa del Carmen | Details |
| Day 12 | Playa del Carmen | Details |